Mobile electric vehicle charger
A solution to load everywhere electric vehicle
Rotronics offers its V-Charger mobile charger for rent and sale. Originally designed to accompany the mobile chasssi dynamometer V-Road, they offer the possibility to charge your electric vehicle at any location.
The chargers are integrated into a trailer, movable with a conventional vehicle: this offers a real flexibility for the realization of your altimetric tests, great cold, or simply in an area not provided with a charger of electric vehicle with the desired characteristics.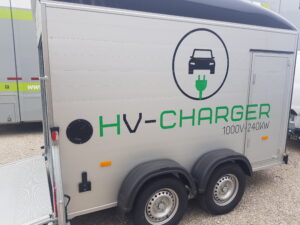 Mobile
Charger is integrated into a trailer, meaning movable everywhere. Connected to a power source, the device will allow to charge any electric vehicle.
High performance loader
Solution offers the following capacity :
One charging point, up to 240 kW DC
Two charging points, up to 120 kW DC
6 charging points 22 kW AC